All Activities
Trick Or Treat
Ends: 1 November 2021, 23:59:59 CDT (1 week from now)
Show your Halloween spirit and collect limited time items!
Details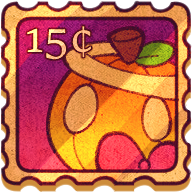 SCARY SEASON!!!!!!!!!!!!!!!!!!!!! Show your Plushpets celebrating however the choose! Carving pumpkins, trick or treating, or just being an all around menace? Whatever they do, one Halloween goodie bag will be awarded to each participating character!
Note: If you don't currently own any character but still wish to participate, you can use the
NPC
's instead!
Note: This prompt can be completed multiple times.
Art Minimum Requirements
Full Body
Flat Colors 
Any/No Shading
Any background
Any line quality
Writing Minimum Requirements
Rewards
---
Skills
No skill increase.
---
Stat & Level Rewards
No user rewards.
No character rewards.
1 result found.